Material Specification
Material
Polymethyl-Methacrylate (PMMA), more commonly known as Acrylic.
PMMA is sold by the trade names Acrylex, Acrylic Glass, Acrylite, Acrylplast, Altuglas, Limacryl, Lucite, Oroglass, Per-Clax, Perspex, Plazcryl, Plexiglas, Polycast, and R-Cast.
We supply Plexiglas and Perspex products.

All of our products are of the highest quality manufactured in Germany and Italy.
Not all of our products are food safe. If you require food safe tubing, please contact us.

Melting point: 130–140 °C (265–285 °F)
Boiling point: 200.0 °C (392 °F)

PMMA is often used as an alternative to glass, it is often preferred because of its higher impact strength, easy handling and processing, and low cost. Scratches may easily be removed by polishing.
PMMA has excellent environmental stability compared to other plastics such as polycarbonate, and is therefore often the material of choice for outdoors applications.
PMMA transmits up to 93% of visible light (per metre)
Tubing Measurements (example)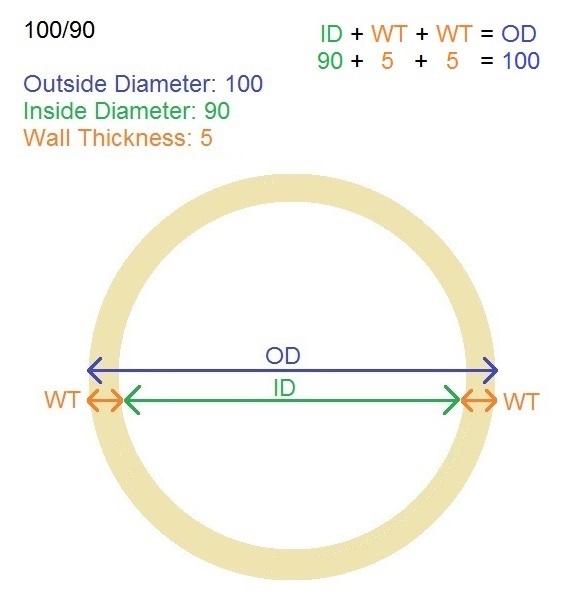 Applications
Architectural Design

Art / Design Applications

Lighting

Candle Moulds

Hand Rail

Curtain Pole

Roman Blind

Pet / Ferret Run

Isis Wings

Game Equipment

Tv / Film Prop

Fish Tank / Pond Filters

Fish Tower / Bridge

Table Centrepiece

Wedding Cake Tier

Snake Catcher

Drum Stick Holder

Dolls House Bird Feeder

Willy Wonka Cane

Trade Stand / Retail display

Shop Fitting

Sensory Equipment

Night Club Feature

Water Fountain

Invisible Tap

Child Reward System

Totaliser / Fundraiser Tool
---
For large/trade orders please contact us or visit www.clearplasticsupplies.co.uk
Latest